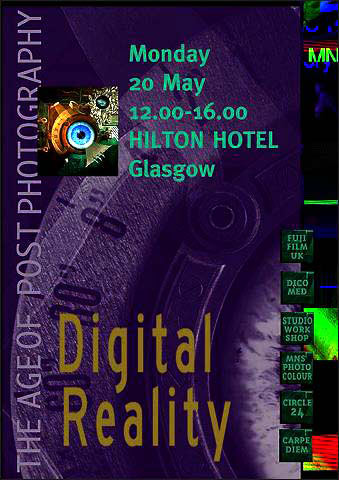 On Monday afternoon the 20th of May 1995 from 12.00 - 16.00 hrs. a workshop is planned with the following subjects:

-Digital Reality:
The effects of digital imaging on professional photography (Robert Schilder)

-Photo Phase One digital back
(From: Studio Workshop)

-Dicomed retouching station
(From: CETA, London)

-Internet & WWW
(with the kind help of Glasgow school of Art)

-Future of studio-photography
short talk and questions (Dennis Savini)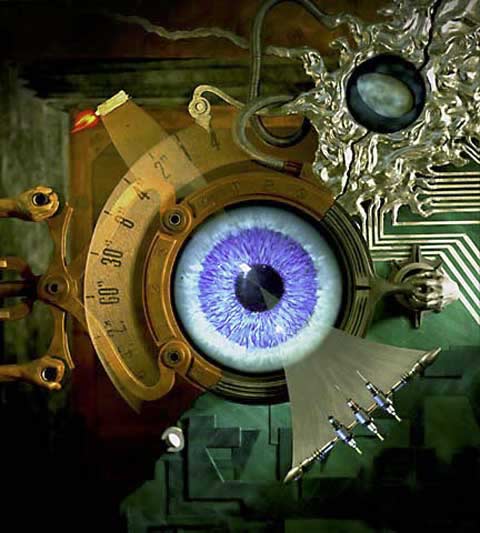 art by Pieter de Swart
DIGITAL REALITY (Robert Schilder)

The concepts of photography are breaking down.
Although a lot of photographers still haven't got a clue what digital photography is all about, it is of no use to give, at this workshop, the same summery of professional equipment over and over again. Instead, I would like to emphasize more on the state-of-affairs and on what can be done in the near future than on digital set-up and hardware. I think we're all pretty much aware that it all works now, but only a few of us are using a good part of the possibilities.

'There is no future for photography!'
The director of the 'Nederlandse Fotoinstituut', Adriaan Monshouwer (1994) , when I asked him for some help with our newly established gallery in the Hague simply stated, quite angrily actually, that there is no future for photography, so why go through all the hassle? Although, he was looking more from his point of view of course, photography as an art-form, this is not the most encouraging message.

Design:
I have worked for the design department of Philips, PCD in Eindhoven, the Netherlands for a long time; first as an in house photographer and later as freelance. About two years ago I was summoned in the office of one of the managers and got quite a serious lecture about the changes which were about to happen. They announced that as a result they would use my services far less than before; looking back now I must say he was only too right.
The same department is now working with the slogan: 'PCD around the clock', meaning that after working on a certain project in Eindhoven (Neth.) for a full day, work goes on (in the night here but) in daytime Australia. In the morning it can be evaluated and followed up in Eindhoven again.


Advertising:
Are budgets going more to moving images? Or is it just one of the things brought about by MTV? I think we have ruined our own advertising market by gross overfeeding. The amount of images is so enormous that it cannot be but markets are loosing their attention.
Another major issue is the deterioration of quality; Who needs advertising? Who needs quality-photography? Can we really get through to people's minds and if not, do we know how to change this?
Digital Imaging
There will be no need to convince anyone that the different computer systems are all working now. Scanners are producing larger files than most printers need. The number of filters we can use in Photoshop software are mind-blowing. Possibilities are growing faster than market demands or our minds could ever predict.
Sometimes the urge to start working with computers comes more from being afraid to stay behind than the actual need to use all these numerous possibilities.
But it is changing all faster than we expected and for many photographers the uncertancies have still not been taken away.
Do we really find it useful or is it just forced upon us?
Pros:
Now that we all have a Powermac and Photoshop and we all have access to the Internet, what are the real advantages?
For me one of the biggest advantages is that it communicates easier and faster.
The urge to network. We are all convinced about the fact that digital imaging is enlarging the possibilities of the photographer, even if it is just used as a tool in creative imaging
Dennis Savivi:
Einen gesunden hang zum Masochismus.
Berührungsangst oder Desinteresse?
Die Anwender ist die grösste Fehlerquelle. Die Systeme arbeiten sauber und technisch auf hohem Stand bs.
Digitale Kameras nicht allein betrachten aber auch die nachfolgende Stufe der Bildbearbeitung
Produktionsmittel sind greifbar geworden
Daten sind sofort kontrollierbar und verfügbar
Der Fotograf kann mit diesen neuen Mitteln sein Werk von A-Z selbst bestimmen, gestalten und abschliessend bearbeiten
Die digitale Fotografie selbst ist nicht kostengünstiger als die traditionelle Produktionsart, aber die Gesamtkosten einer Produktion werden dem Kunden gefallen.


Cons:
Grösse Investitionen.
Mayor disadvantage is that it is becoming unclear who is doing what?
Ad-agencies are turning into servicebureaus and photographers into reprohouses. New ways of collaboration are needed
The learning curve proves much longer than expected. It is taking up far more time than expected to learn how to use the equipment.
If your client is not using the possibilities it may be even harder to communicate. We all seem to be waiting for the other person to start using it.
Working cross-platforms is one of the hardest things there is.

RS:
Internet
The almost unlimited distribution power of the internet
There is no way back. All the new possibilities for improving quality are far too important for that.
No longer an utopia, now it is possible to get tailor-made solutions: set-ups for your personal and your clients situations. From lay-outs to archiving and from retouching to sending an invoice, from private-banking to ordering material. Capture, storage and output; it is all possible on one and the same system. What is more it is all getting more user-friendly.
In my opinion pretty soon you will be working with your clients and service bureaus in your own network of specialists. It could even be a way of making your life easier.
Practical experiences have shown, that only with a thoroughly tested system you will be able to work in a reliable way. All components: computer, software, cameras and light have to be adjusted to each other. And one should not forget to take the next person into account who has to work with this chain of data. These things should be considered even before you start buying equipment. One of our experiences of the survey we did is that there is a definate different preferences in every country or even city.
Important also is the connection to the next step. meaning that you can read the lay-out of your clients and that you speak the same language as your output bureau. For this reason you might want to sit down and talk to them before you start to invest in equipment.
What we show you in this workshop are easy solutions, simple Mac's and PC's with global access

Networking
A network of specialists is the way in which it should work and for our Circle easier communications are also the way for the near future. Not just because it is great fun to do, but first of all because it is necessary. Keeping an open eye on what's happening and an open mind toward any changes.
It is a pity that your client is not using all the possibilities yet, because that would bring back the market we are all looking for.
*in some cases it is already possible to work on a distance or to get material from sources far away
*now it is possible to send colour corrected output ready for printing.
*Robert Steinberg makes iris-negatives for platinumprints.
*Richard Benson: stochastic screening == cristalraster, high quality printing of old photographs.
*Iris printers print on any surface already since 1994
*dye-sublimation: dyes are diffused into the image tot 11x170 larger: inkjet
*Cactus: electrostatic printing for high-quality output groter dan Iris 54Ó breed! dot pattern
*Fuji Fujix Pictrography 3000 400 dpi printer uses silverhalide and thermal technology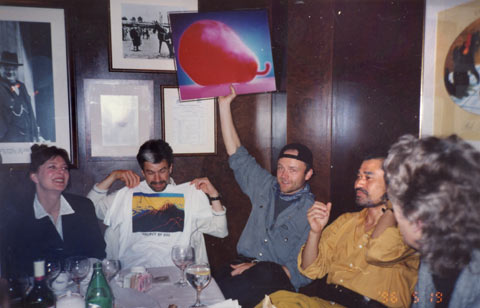 Advantages of Digital Imaging:
The reverse of one of the most common complaints is that the client has possibilities to use copyrighted material in any way he likes?
-It is giving us more control in the making and marketing of our work. (Hotshoe)
-It is possible to retouche and enhance what has already been photographed.


-complete in-house production services




Kontakten van het vorig jaar:
Boedapest

Welke foto's:

Global attitude moet er nog inzitten, dus feiten over werelddelen.
NEW MARKETS???
artikel over stijl: style as a social phenomenon
waarom kiest een klant voor een bepaalde fotograaf
still photography in multimedia
and digital presentations
cd-rom

uses of digital imaging
Photomanager
Verhaal van Anthony
Lithografen zijn in het voordeel wat betreft softwarekennis.

Fotografie is de laatste schakel die nog niet gedigitaliseerd is.

dayrates versus marketing
hoe voordelig is het om te netwerken

no rules photography
zou hiermee duidelijk moeten maken hoe we onze eigen markt aan het verzieken zijn
We worden ingehuurd om een idee vorm te geven en daar veranderd geen computer iets aan.
neue bildsprachelemente werden möglich. Photography was never a reliable means for representing reality, even though to a certain point it might work well in doing so. More often it served to create a new reality. In a similar way, new media is functioning today to the point of limitless manipulation, losing any connection to the represented object.

Digital imaging is giving much more possibilities to portray the 'image' of a certain assignment. Most advertising is about emotion
Wat we nodig hebben is iets wat uitdaagt.
Challenges the way we read
subverting messages and creating alternative readings of an image
Wat is anders dan in alle andere toekomst filosofien
BEELDEN
wat is het duidelijk nieuwe idee in het verhaal

Kultuur:
"culture of contentment":
de 'kultuur' van een zelfgenoegzame en welvarende bovenklasse, die zich afkeert van de problemen van de onderklasse die zij zelf heeft gecreëerd. (Volkskrant)

computers zijn a-sociale media

Lezen:
de tijd die mensen ter beschikking hebben blijft gelijk.
dus gaan ze nog scherper selekteren op inhoud.

informatie-overvloed leidt tot ontlezing?
Het voordeel van het kunnen zoeken op een enkel woord

"Reklame is een dood lichaam dat blijft lachen": Oliviero Toscani, Benetton-fotograaf
Benetton's design-school fabrica in Catena di Villorbo bij Treviso
Cijfers:
Adformatie 12/10/95:
relatie gebruik internet / nooit van internet gehoord:
Amerika 12% 20%
24 miljoen internet gebruikers= 11 procent van de bevolking boven 16 jaar
18 miljoen gebruiken WWW. zijn over het algemeen beter opgeleid en hebben een beter inkomen. 31% 1x per dag en gemiddeld 5 uur en 28 minuten per week.
Duitsland 2% 78%
Frankrijk 2% 71%
Nederland 3% 51%
Zweden 5% 27%

Fits is 'the postscript of imaging' partnership Kodak and IVUE?
eigenlijk niks meer van gehoord???
The future image report opzoeken

Anthony:
Photo CD is functioneler en goedkoper dan digitale fotografie
Digitale technieken veranderen noch het doel noch de functie van fotografie.
Het zijn alleen de middelen, de gereedschappen die veranderen.
Digitalisering is onafwendbaar maar er is meer tijd voor nodig om tot een economisch verantwoorde implementatie te komen.
Zelfde artikel: Gerdo Schepel: er zijn nou eenmaal early adopters nodig om de technische ontwikkelingen op gang te kunnen houden


Mediauitgaven in Engeland daalden in het vierde kwartaal 1995 van 9 naar 5%:
nieuwe economische recessie
De dingen nemen meer af dan wordt toegegeven.
tags: digital reality, circle-24, glasgow, robert schilder, mns photocolour, dennis savini, intercolor,